Window Treatments
At Harry Katz Carpet One Floor & Home in Mineola, NY, we know that there is more to a beautiful room than just flooring. Another key component of making your home yours is window treatments. Window treatments can maximize the potential of your space. There are many options available, so it is crucial to speak with one of our experts who can help you navigate the best choices for you based on your style and needs. Window treatments are more than an accessory to your home; they also offer practical and functional benefits.
Benefits of Window Treatments
One of the major benefits of window treatments is energy efficiency. It makes any homeowner happy when your room stays at a comfortable temperature while saving you money on heating and cooling. Also, did you know that the natural light entering your home can actually damage your floors and furniture? Solar shades can help protect you and your flooring from harmful UV rays caused by the sun. You no longer have to worry about the possibility of fading floors when you invest in window treatments. After all, your flooring is a huge part of your home, and keeping it looking great for years is something everyone can agree on.
Privacy control goes hand in hand with light control. Whether you live close to others or you just prefer your own space, window treatments can help you get the privacy you need. When you feel like you need some space and you want to watch a movie at night without being bothered by the headlights of cars driving by, you can lower your shades. If you don't have shades, you have to deal with the outside light on someone else's terms. Window treatments make it easy for you to control your privacy at any time during the day, whether you want more or less privacy.
Window treatments can help make your home design even more cohesive. With patterns that range from bold, to traditional and solid colors, choosing window treatments that accentuate your space will further enhance the overall look.
Types of Window Treatments
Wood blinds are popular for their great looks and durability. However, they are not great for areas exposed to moisture. Today there are faux wood blinds that give you that look you've come to love with the ability to utilize them in your kitchens, bathrooms, etc. without worrying about damage.
At Harry Katz Carpet One Floor & Home in Mineola, we are proud to offer window treatments to the areas of Long Island, NY, Nassau County and Suffolk County, NY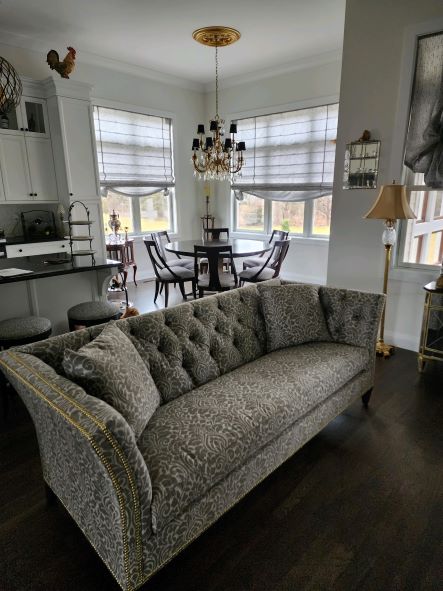 A recent window treatment installation done by our amazing team!
Hunter Douglas

Our Hunter Douglas collection covered a wide selection

of window treatments for you to choose from. We have blinds,

shades and shutters that come in a variety of styles to suit

your home décor.

Graber

Graber shades, blinds, and shutters have proven to

reduce utility costs while protecting your family's private

lives and letting the sun's rays stream in.

Custom Drapes

Drapes can be customized for your home to get

the look you want. No matter what style you're going for, you can achieve it with custom drapes.

In-Home Drapes

Our customized drapes are complete in this beautiful home.

With a style that complements other aspects of the home, these drapes are the perfect addition.