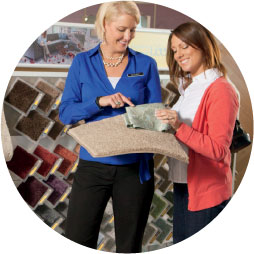 Cynthia Katz Sigadel, Co-Owner

Cyndy has been involved in the flooring business for over 30 years. As a third generation owner, you could even say flooring is in her blood. Cyndy works with the customers to make sure that from beginning to end, their experience at Harry Katz Carpet One is exceptional.
Cyndy is a member of the Interior Design Society's Pay it Forward committee and a member of the World Floor Covering Association, and was a previous board member at the Family and Children's Association. She also has a love of animals and donates a lot of carpeting and mats to various animal organizations and shelters. In her free time, Cyndy loves to go to the beach and enjoy that sun and sand!
Gary H. Katz, Commercial Sales Manager, VP and Treasurer

Gary has worked at his family's store for over 30 years and has become well-versed in the business of flooring. Gary is also very involved in the Mineola community, having served on the Board of the Mineola Chamber of Commerce since 1985 which included a 3 year term as president. Gary also served on the Nassau County Council of Commerce and received their "Small Business Person of the Year." Gary was a founder of the Mineola Fair which is in its 22nd year and is a vital member in small business support organizations around Long Island.
Warren Singleton, Warehouse Manager

Warren has been with Harry Katz Carpet One for 12 years and works to make sure all inventory is received and all material is ready for installation. Warren also trains and prepares installers to do a high quality job so you can have a wonderful, worry-free experience. Warren is the proud father of 3 children and in his spare time enjoys watching horror movies and the show "The Walking Dead."
Vivian Beechinor, Interior Designer/Sales Consultant

Vivian brings over 14 years of interior design experience to Harry Katz Carpet One. She is a member of both the Interior Design Society and the Interior Design Society of Long Island, making her a highly qualified design expert as well as involved in the Long Island design community. Vivian has also written several articles for Newsday and was a featured designer in "Newsday LI Makeover." She is always on top of the latest products and trends and loves being able to pass that knowledge along to her customers. Vivian is passionate about helping customers find the right flooring for their home based on their taste and style. In her spare time, Vivian enjoys to crochet and craft. Her favorite quote was said by Leonardo da Vinci: "simplicity is the ultimate sophistication."
Rick Burlot, Flooring Specialist

With 16 years of experience in the flooring industry, Rick knows that "pretty good is not enough." Rick has extensive knowledge and training of all of our products and he will help you find the perfect floor for your home!
Kevin Gordon, Flooring Consultant

Kevin brings over 25 years of industry expertise to our company, 25 of which are from working as a Flooring Consultant right here at Harry Katz Carpet One. Kevin is always excited to help customers through any phase of a job, from making the right selection to following up on customer satisfaction. Kevin knows how to give customers the right flooring for their needs and lifestyle.
Luis Campos, Back Office Operations